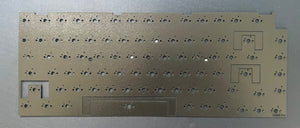 StupidFish Designs
GMMK Pro PE foam
Regular price
$14.00
$0.00
Unit price
per
Cross-linked PE foam for the GMMK Pro by Glorious Gaming
0.5mm thick 
Compatible with the ANSI version
ISO coming soon, maybe.   
NOTE: Not compatible with 4mm plate foam.   Insert usual acknowledgement of #preferences, but we STRONGLY advise against using PE foam with 4mm plate foam.  Even in a build like this with standoffs and a rigid metal plate, we think this is a terrible idea. 
A special thanks to mcheddadi.  Without his research and contributions, we never would have been able to offer this product to the community. 
---